Connecting People to Their Passion
#SAMLife
Mission
To enhance and often change the way our clients and partners experience design and construction support through our innovative technology solutions, exceptional leadership, and world class employees, while growing the business with the same honesty and integrity upon which it was founded. This is accomplished through our relentless pursuit of the right people, constructive partnerships, and excellence in operational performance.
Vision
To be the largest, nationally recognized company providing best-in-class services while being the most valued partner to our clients, employees, shareholders, and the communities where we work and live.
Our Core Values
Integrity & Ethics
We are committed to the highest standards of integrity and ethics. These standards are the fundamental beliefs that we hold for ourselves in our interactions with clients, employees, and the public. When making business decisions, we will not take professional or ethical shortcuts and we understand that doing business the right way, is the only way.
People
Success is based on the hard work and efforts of our team members and we celebrate in their accomplishments. We support a work environment that nurtures our employees' continued education, growth, and development and encourages discovery and sharing of best practices to enhance a culture of continuous learning. We hold a core belief that by working collectively as a team, we are stronger.
Excellence In Service
Excellence in service signifies our core belief that our clients' satisfaction is our top priority. We provide value to clients by offering them extraordinary services, innovative solutions and the highest quality products. Our partnering approach ensures that we surpass clients' expectations. We maintain a constructive and positive outlook in our interactions and work effectively under pressure to respond quickly to clients' needs.
Safety
We are committed, individually and collectively, to the safety and well-being of our employees, our clients and our communities. Our programs and policies, as well as our daily decisions are proof that this commitment is engrained in our culture both on and off the job.
Community
We are deeply rooted in our communities. Our belief of caring about the greater communities in which we live and work establishes the foundation of who we are as an organization. Our commitment to give back and serve our communities is driven through donation matching and volunteerism throughout the SAM Family of Companies.
Our Commitment to Our People
Diversity & Inclusion
SAM works hard to nurture a culture of inclusion. We believe in cultivating teams made up of a diverse, multitalented people, who work together to meet our clients' needs, drive innovative solutions, and serve our communities. We are deeply committed to recruiting, hiring, training, mentoring, and advancing our employees of wide-ranging backgrounds, ethnicities, and cultures.
Community Service & Giving
SAM is built upon a foundation of service, and that responsibility extends beyond serving our clients to serving our communities. Community is one of SAM's Core Values, and we've made a top-down commitment to give back to our local communities by sponsoring volunteer events held throughout the year and SAM matching donation program.
Environmental
SAM believes in being a strong steward of the environment. To this end, we work to ensure compliance with all environmental regulations on jobsites, have initiated responsible energy usage, recycling, and e-waste programs, and have partnered with leading renewable energy companies across the country on projects that bring sustainable energy to the electric grid.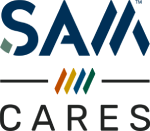 We help families support families. Your life outside of work is important to us. This program is built to help SAM team members focus on critical elements of well-being to take care of themselves and their loved ones so they can keep doing what they do best.

SAM Cares is centered around four pillars.
Financial Wellness
SAM provides the Dave Ramsey SmartDollar program as a free resource to help employees enhance and take control of their finances. Save money, pay off debt, build wealth, and save for the future. All SAM employees are eligible to participate in the program, and the information is confidential. This is for you.
Mental Health Wellness
Your mental health is essential for well-being. We want our employees to put themselves first. Our health insurance plan through Blue Cross Blue Shield (BCBS) offers extensive resources for maintaining and tracking a healthy lifestyle. Employees and their families enrolled in our plan can access this benefit at any time.
Physical Wellness
While SAM hosts softball tournaments and fitness challenges from time-time, employees can always access measurable resources for their physical health through a health insurance plan with us. Manage your habits, score discounts, and reach your fitness goals.
Community Wellness
A core value at SAM. Community is a large part of who we are, and a key driver in why we are successful. Our community wellness pillar places emphasis on working together, volunteering, and giving back to organizations that we believe in.
A Look Inside Our Team
Never Miss an Opportunity
Not ready to apply? Join our Talent Network. When a new opportunity opens, you'll be the first to know!
Join Our Talent Network